Indulge in the World of Celebrity Chefs!
Experience captivating food demos and engage in insightful conversations with these culinary masters. Discover the creativity of our tasting experiences and immerse yourself in engaging cooking demonstrations. Our event brings together the finest ingredients, flavors, and people for a truly unique experience that will leave you inspired and ready to explore all that this area has to offer. Join us for this incredible weekend of culinary discovery!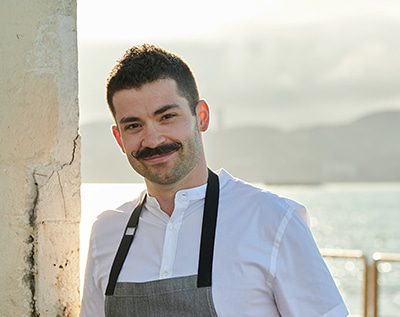 Chef Joe Sasto
Food Network "Chopped" Winner
NBC's "Top Chef" Finalist
Chef Susan Feniger
Iconic culinarian, author, and entrepreneur Susan Feniger may be best known for her Modern Mexican concept, Border Grill restaurants, trucks, and catering, which she runs with her business partner of more than 40 years, Mary Sue Milliken. Now with locations in Las Vegas and Los Angeles, Border Grill continues to serve street food-inspired regional Mexican cuisine with a commitment to sustainability and the best quality ingredients.
In 2018, Feniger and Milliken debuted BBQ Mexicana, a fast casual eatery now with four locations in Las Vegas; in late 2019 the chefs opened Socalo, a California canteen and Mexican Pub serving seasonal SoCal Mexican fare in Santa Monica; and most recently the duo launched Pacha Mamas, featuring seared skewers a la plancha and freshly composed ceviches, at Allegiant Stadium and T-Mobile Arena.  Later this year, the duo will open two new restaurants, a fifth BBQ Mexicana location in Las Vegas plus a new restaurant at Living Out, an LGBTQ+ active senior community in Palm Springs, called Alice B.
After graduating from the Culinary Institute of America in New York, she made a groundbreaking move in joining the nearly all-male kitchen at Chicago's Le Perroquet, serendipitously meeting the only other woman in the kitchen—Mary Sue Milliken.
Feniger and Milliken brought their innovative approaches to The Food Network with nearly 400 episodes of the "Too Hot Tamales" and "Tamales World Tour" series. They also were the original co-hosts of the popular food-centric radio show, KCRW's "Good Food," in L.A. Susan has co-authored six cookbooks, including Susan Feniger's Street Food and competed on Bravo's "Top Chef Masters" in 2010.
In 2018, Feniger and Milliken were named the recipients of the fourth annual Julia Child Award from The Julia Child Foundation for Gastronomy and the Culinary Arts, marking the first women to be honored. The distinction complements additional accolades, including the Elizabeth Burns Lifetime Achievement Award from the California Restaurant Association in 2013; earned induction into Menu Masters Hall of Fame in 2014; and the 2018 Gold Award from the Los Angeles Times for culinary excellence and innovation in Southern California.
Chef Joe Sasto
You may recognize Chef Joe Sasto from his win on The Food Network's "Chopped", and his time competing on NBC's Top Chef and Top Chef All-Stars. He was recently recognized by The Food Network for their first ever "Hot List" of 2022.
Recently, Sasto has become very popular via the social media landscape, with over 20-million "likes" and countless viral videos. Sasto is a reoccurring judge, host, and chef personality across Food Network, and an All-Star competitor for shows such as Guy Fieri's Tournament of Champions, and Guy's Grocery Games. Chef Joe has also developed a high-end customizable pasta and pizza tool line with well-known knife maker and blacksmith Doghouse Forge. Sasto recently launched a puffed pasta snack, entitled TANTOS, which is set to hit the market in 2023. Chef Sasto is also currently writing his first cookbook.
From a very young age, Joe Sasto knew that he wanted to be a Chef. Sasto's mother had always recognized his talent, passion, and love of the culinary arts. Learning to cook by his mother's side, Joe became ignited when in the kitchen.
After earning his bachelor's degree from the University of California at Davis, Sasto dove headfirst into the culinary and restaurant industry, training under some of the Bay Area's most respected and honorable Chefs. After traveling through Europe, Sasto brought his inspiration to Quince Restaurant. It was at Quince in San Francisco where Sasto's passion for pasta truly began. Under Chef Michael Tusk, Sasto was trusted to manage the handmade pasta program, learning the traditions and roots from one of the world's most celebrated, Italian-influenced chefs. Later, during his time as Executive Sous Chef at Lazy Bear in San Francisco, Sasto maintained his strong, cultivated relationships with local farmers, showcasing the beautiful, uniquely seasonal produce of California. A natural leader, Sasto quickly became recognized for his abilities, respectfully contributing to the rise of restaurants such as two-Michelin starred Lazy Bear, and three-Michelin starred Quince. A very driven Chef, Sasto has opened restaurants as Executive Chef in San Francisco and Los Angeles, California.
In 2018, Sasto began focusing on pursing the goal of opening his own restaurant, traveling the country, hosting private events, pasta classes, and fine-dining dinner parties. When the global pandemic began in March 2020, Sasto ceased travel and pivoted. Chef Joe started to virtually teach both public and private livestream pasta lessons weekly, consulting with brands, curating food-focused content, and developing recipes, all while garnering a strong social media following. Sasto excelled due to his passion for food, as well as his ability to connect with others through music, his personality, and through an approachable culinary lens. In 2020 Sasto launched his limited production and highly coveted focaccia popup, Luna Focacceria.
Tanya Holland
Acclaimed for her inventive take on modern soul food, as well as comfort classics, Tanya Holland is the Executive Chef/Owner of the internationally renowned and beloved Brown Sugar Kitchen restaurant, in Oakland, California.
The author of The Brown Sugar Kitchen Cookbook and New Soul Cooking, Holland competed on the 15th season of Top Chef on Bravo, was the host and soul food expert on Food Network's Melting Pot, she appears on the new HBO Max show Selena + Chef featuring Selena Gomez, and is the host of "Tanya's Kitchen Table" on OWN: Oprah Winfrey Network.
She is a member of the Board of Trustees, a frequent contributing writer and chef at the James Beard Foundation, and Brown Sugar Kitchen (Oakland, CA) has received multiple Michelin Bib Gourmand awards. She is an in-demand public speaker and lecturer who frequently leads the conversation on inclusion and equity in the hospitality industry.
Holland leads a critically-acclaimed podcast "Tanya's Table" produced by MuddHouse Media, interviewing many celebrity guests in Season One such as Questlove, Samin Nosrat, Alice Waters, Danny Meyer, Jesse Tyler Ferguson, Bassem Youssef, and Carla Hall. Season Two of "Tanya's Table" features special guests Ayesha Curry, Danny Glover, Bonnie Raitt, Phil Rosenthal, Lars Ulrich, Lizz Wright, Ericka Huggins, Jonny Moseley, and others.
Holland has served as the president of the prestigious Les Dames d'Escoffier San Francisco chapter.. The City of Oakland declared June 5th, 2012 as Tanya Holland Day for her "Significant Role in Creating Community and Establishing Oakland as a Culinary Center".
Holland holds a Bachelor of Arts in Russian Language and Literature from the University of Virginia, as well as a Grande Diplôme from La Varenne Ecole de Cuisine in Burgundy, France.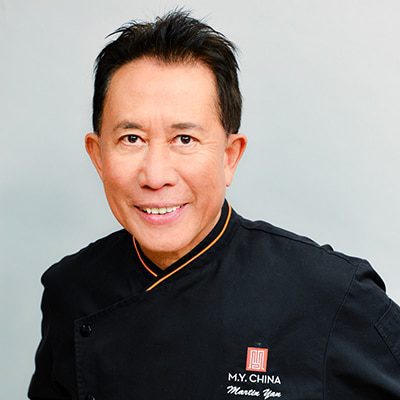 Chef Martin Yan
"Yan Can Cook, So Can You!" has always been the motto of Martin Yan, chef extraordinaire and popular television host recognized from Shanghai to San Francisco. Promoting Chinese cuisine, making it easy for the cook and tasty for the guests has been his life-long mission. Born in Guangzhou in Southern China, Chef Yan is technically a second generation 'culinarian,' who was first inspired by his mother in the tiny kitchen of their family restaurant.
After receiving his formal restaurant training in Hong Kong, Chef Yan immigrated to Calgary, Canada where on one snowy day he was asked to appear in a daytime news program to demonstrate Chinese cooking. The rest, as they say, was television history. From that small station in Canada, the Yan Can Cook Show grew to become one of the most popular cooking programs on public television, both in North America and on the global stage. It has won the James Beard Award for Best Food Documentary Show for two consecutive seasons.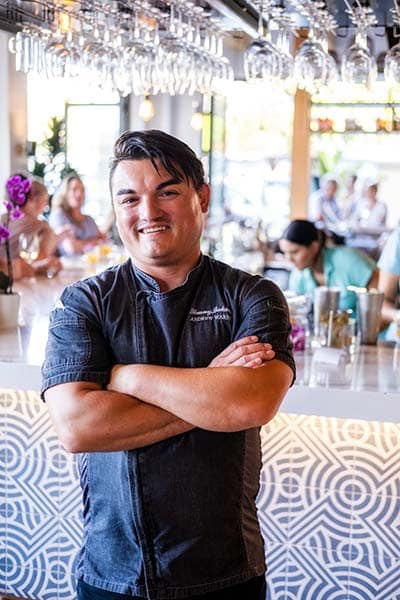 Chef Andrew Warner
Corporate Chef

In 2003, Chef Andrew Warner attended the Arizona Culinary Institute in North Scottsdale. He spent the first part of his career at the AAA Five Diamond Fairmont Scottsdale Princess. Andrew credits much of his experience to his mentor, Executive Chef Reed Groban, who helped him rotate through several nationally accredited restaurants. Working at the AAA Four Diamond La Hacienda, he developed a passion for unique regional Mexican cuisine. Andrew is still able to tap into that passion when Tommy Bahama celebrates regional Mexican-inspired dishes every September. Some of the dishes Andrew has developed for this special menu include Lobster Flautas, Chiles Guero, and the Pork Tomahawk served with Salsa Macha, Sweet Potato & Corn Tamales.
After 11 years with Tommy Bahama, Andrew has been a globetrotter for the company. He led the kitchens in NYC, Honolulu, and Scottsdale, AZ, over the first five years of his tenure at Tommy Bahama. Chef Andrew now resides in Newport Beach, CA, as the Corporate Chef for the iconic luxury island-inspired brand. He is currently overseeing Culinary Development for both the Tommy Bahama Restaurants and Tommy Bahama Marlin Bars. Chef Andrew's cooking inspiration comes from the ethnic and cultural diversity found throughout the company, and he prefers to work with seasonal ingredients that pair well with the island-inspired concept. As the company grows, Chef Andrew and the team will open the first Tommy Bahama Miramonte Resort & Spa in Indian Wells in November 2023.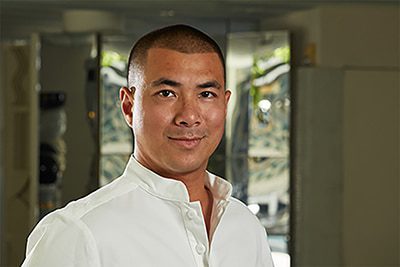 Chef Michael Hung
Chef Michael Hung began his culinary career in New York City, where he dropped out of culinary school to do extended stages at acclaimed restaurants Daniel and Aquavit. Michael then followed his heart to San Francisco in 2005 and joined Traci Des Jardins's James Beard Award-winning team at Jardiniere. His career continued for nearly a decade in San Francisco, culminating with his appointment as Chef de Cuisine at Roland Passot's Michelin-starred La Folie.
In late-2013, Michael left San Francisco for Los Angeles to open Faith & Flower, where under his leadership the restaurant was honored Best New Restaurant by Esquire magazine, Los Angeles Magazine, and Travel + Leisure Magazine. In 2015, he opened Viviane in the Avalon Hotel in Beverly Hills, earning a superlative review from LA Times's Jonathan Gold, garnering Best Hotel Restaurant by LA Weekly Magazine, and was recognized by SF Chronicle food critic Michael Bauer as one of LA's best restaurants.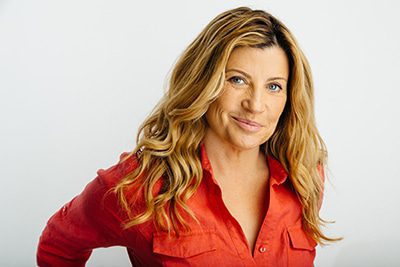 Daphne Brogdon
Daphne Brogdon explores the intersection of comedy and culinary.  As the host of Food Network's "Daphne Dishes," she showed viewers how to cook for their families employing her experience in restaurants and stand-up.  She has appeared on "Beat Bobby Flay," "The Kitchen", and a variety of shows on the Cooking Channel including, "Food: Fact or Fiction."
A seasoned TV Host, Improviser, and Stand-Up she is the widow of Chef Mark Peel, with whom she collaborated on several restaurants and had two children.
Daphne was the first comedic mom vlogger with "Coolmom" and "Momversation."  She co-created a pop-up, Weed to Table, where she uses the properties of cannabis to enhance flavors.  Daphne is an amateur forager and regularly uses common weeds in her cooking. She volunteers to cook for Meals on Wheels and is heading up a scholarship fund in her late husband's name for The Collins College of Hospitality Management at Cal Poly Pomona. She can be found in the following places online. @coolmomdotcom on Youtube, @daphbrog on IG and Tik Tok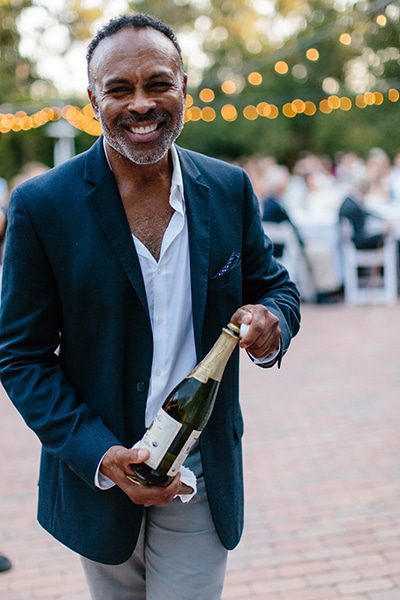 Chef Andre Carthen
Chef Andre Carthen a.k.a. the Fit Chef, is featured in Kathy Ireland's book "Real Solutions for Busy Moms: Your Guide to Success and Sanity," and Janet Jackson's first book, NY Times #1 Best Seller "True You" where he contributed over 30 recipes for a healthy meal plan.
"True You" takes Celebrity Chef Andre's exquisite recipes and transforms them into something anyone can do if they have a desire to stay healthy and lean while eating the foods they love. Chef Andre is the only African American to be appointed to the Nutrisystem Success Chef's Council. Recently asked to be the guest chef for St. John's Hospital's Gala "Beyond the Stars" at the Ronald Reagan Presidential Library.
He is often asked to bring his culinary awareness to the media and has appeared on popular radio & television programs like "Today Show," "Access Hollywood", "Anderson Cooper", "Soap Talk", "EXTRA", "Inside Hollywood" and much more!
Executive Chef Hany Ali
Europa Village
Born and raised in Egypt, Chef Hany Ali had a passion for the culinary arts at an early age.  While Chef Hany was born in Cairo, Egypt, he was raised in a coastal resort city named Hurghada.  Hurghada, is best known for its beautiful white sand beaches, fresh seafood, and one of the most popular vacation spots with Europeans. It was an inspiration to a young Hany.
At the age of 14, Chef Hany began his culinary journey at the International Hotel in Hurghada as an apprentice under their Executive Chef.  Hany's passion, creative talents, and desire to achieve his goals in the Culinary Arts, were quickly noticed.  While many young men would have crumbled under a six-month apprenticeship, with no compensation and 14-hour workdays, Hany did not.
After graduation from the International Culinary Institute in Egypt, Chef Hany decided to travel through Europe and Asia exposing his palate to as many different types of cuisines as possible.  This allowed him to broaden his talents as a chef and gave him the experience and knowledge needed to begin his career.
The Four Seasons Hotel in Newport Beach, CA is where our Hany found his first home.  For ten years, Chef Hany worked as the Garde Manger Chef and Banquet Chef, providing guests with the exemplary culinary standards the Four Season's is known for.  Throughout his ten years at the Four Seasons, a deeper understanding of what pleases the palate emerged.  During this time, Chef Hany was also the Executive Chef for a catering company to the stars.  Working with many different celebrities and networks was challenging, but Hany soon learned the tricks of the trade and started his own catering company.  Without boundaries or stipulations, Hany's creativity flourished.
As a guest instructor at the Sur La Table cooking school, Chef Hany began to share his techniques with other aspiring chef's.  His charismatic personality, motivation, and exceptional skill set, packed the classroom at this small venue.  Throughout this time Hany also brought his love for food to the Great Wolf Lodge in California, in the capacity of Executive Chef, where he received numerous awards and recognition.
After over 13 years in the most highly regarded hotels and restaurants in the U.S. Hany found a home in the Temecula Valley Wine Country as the Executive Chef leading the culinary team at Ponte Winery. With a love for the valley, a deep appreciation for each ingredient, and a thirst for unique and thoughtful wine, he hoped his passion is palpable in every plate, sip and bite.
With all his many accomplishments, experiences, and rave reviews, we are pleased to have Chef Hany Ali as our Executive Chef and being part of a "food culture that respects local produce, farmers and ranchers."  He showcases that back-to-the-land reverence with farm-fresh valley produce — with some vegetables and herbs harvested just moments beforehand in the kitchen garden out back. But while the sourcing may be local, our chef 's influences are global, resulting in flavorful, inventive border-crossing cuisine. And providing our guests with the exceptional service, dedication, and immense love and passion for food that they have come to expect from Europa Village.
Chef Lance Velasquez
If you've tasted Lance's killer breakfast sandwiches and tender biscuits at Biscuit and Counter pop-ups around the Coachella Valley then you know first-hand how talented he is. What you may not know is he hails from the food mecca of the Bay Area, where he was named one of Esquire's "Rising Star Chefs," and brings a wealth of culinary experience. He's spent the majority of his career working in some of Northern California's most prestigious dining venues: Chateau Souverain alongside Gary Danko, The Restaurant at The Ritz-Carlton San Francisco, Campton Place, and as the founding chef at Moose's restaurant in San Francisco.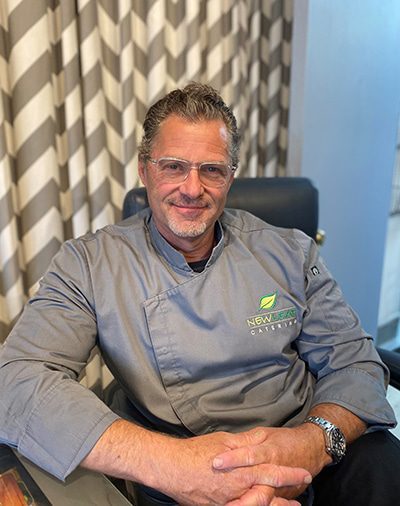 Chef Scott Robertson
Scott Robertson opened The Ritz-Carlton in Rancho Mirage as a sous chef in 1988 and worked at Wyndham Palm Springs as chef de cuisine. He was executive chef at Indian Wells, Chaparral, and Avondale country clubs and executive sous chef for Indian Ridge Country Club. In the early 1990s, he cooked for Presidents Carter, Reagan, Clinton, Obama, and Ford at Mission Inn in Riverside.
His experience as executive chef at Eisenhower Medical Center and Heart Hospital of the Desert led him to open New Leaf Catering 20 years ago. New Leaf has earned numerous awards, including gold and silver medals from the American Culinary Federation. The American Culinary Federation with a designation of Certified Executive Chef has recognized Scott.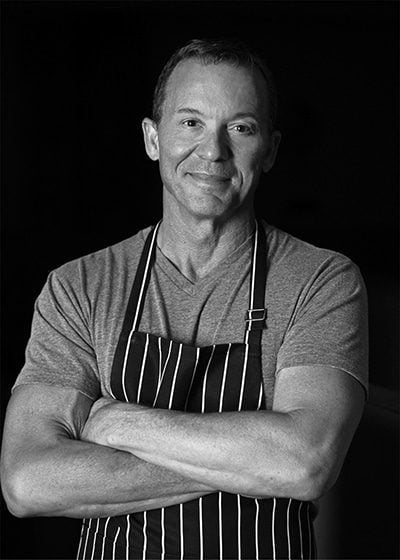 Chef Tony Di Lembo
Inspired by upbeat 1960s-style supper clubs, The Tropicale Restaurant was introduced to Palm Springs in 2007 and has since become an institution. Its hip, swanky décor is the setting for its distinctive World Cuisine. The menu is a provocative mix of zesty influences from around the world and is the culmination of a lifetime of cooking by its chef, Tony Di Lembo.
At a very young age, Tony developed a passion for food and sealed his fate in the kitchen. He has boiled down forty-plus years of professional cooking and globe-trotting to present a repertoire of weekly, seasonal specials—from luscious comfort foods of his childhood to the exotic flavors of the cuisines of the world, foods that make you feel happy—dishes you'll fall in love with and put a smile on your face.
He has also published the Tropicale Restaurant Cookbook  spotlighting some of the restaurant's best recipes, and more recently authored the award-winning Running Through the Swinging Doors, a literary voyage that chronicles his years of adventures and professional pandemonium in a witty and insightful behind-the and insightful behind-the-scenes journey into the soul of the restaurant. Tony was trained at the Culinary Institute of America.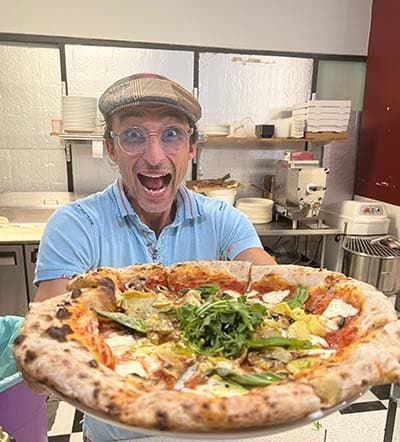 Chef Antonello Zito
Executive Chef Palmina by Puglia
Antonello Zito is an Italian native, born and raised in Putignano, a town in the Bari district of Puglia. His life started miraculously; despite his mother experiencing a severe hemorrhage and both their lives hanging in the balance, both Antonello and his mother survived the ordeal. As an only child, Antonello's childhood was enriched by his close relationship with his grandmother, Maria, and their family country house, where his culinary journey began at the tender age of eight. Antonello's life took another significant turn when he met Keisha Smith, the woman who would become his wife and life partner.
After their marriage, Antonello left his beloved Puglia and moved to the United States to start a new chapter with Keisha. They settled in Lake Arrowhead, bringing along their loyal canine companion, Stella. Stella held a special place in Antonello's heart. She had been with him since her birth, providing constant companionship, unconditional love, and peace. Their bond was strong, and Stella's presence added joy and comfort to Antonello's life. Once settled in Lake Arrowhead, Antonello noted a lack of authentic Italian cuisine. Seeing this as an opportunity to share his culinary skills and passion for Italian food, he started by cooking for his wife. His talent didn't go unnoticed, and before long, he decided to open a restaurant to bring the flavors of Italy to the locals and visitors of Lake Arrowhead. His restaurant became a hit, and the fame of Antonello's authentic Italian dishes began to spread across the region. The buzz reached as far as Palm Springs, prompting Antonello to open a second restaurant location there.
His culinary journey, which had its humble beginnings in his family's country house in Puglia, had led him across the ocean to sharing his love for Italian food with the people of Southern California. Antonello Zito's life story is one of resilience, love, and passion. From his miraculous birth to his success as a restaurateur in the United States, his journey is a testament to the power of perseverance and the pursuit of one's passions.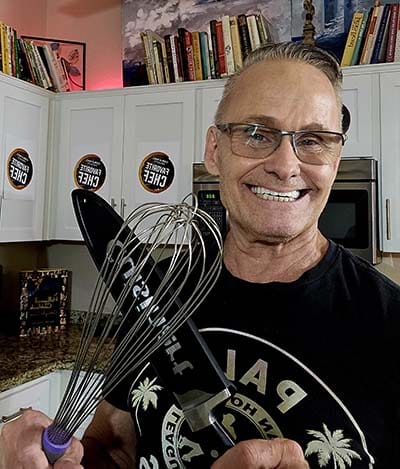 Chef Mitchell Battersby
Chef Mitchell Battersby is an esteemed culinary artist with over 30 years of professional experience. He received his training at the acclaimed Cordon Bleu, where he honed his skills and developed a deep understanding of the art of cooking.
Chef Mitch is best known as the talented host and chef of the popular online healthy cooking show, Neighbors Cooking. Through this platform, he shares his passion for creating delicious and nutritious meals that inspire and delight his audience.
In addition to his online presence, Chef Mitch has also achieved recognition in the culinary world through various competitions. He proudly placed 3rd in Chef Carla Hall's highly acclaimed "Favorite Chef" competition, showcasing his exceptional talent and ingenuity.
With his extensive experience and creativity, Chef Mitch has served as a personal chef to numerous celebrities, bringing his culinary expertise directly to their tables. His exquisite dishes are a testament to his dedication and meticulous attention to detail.
Chef Mitch's style can best be described as innovative, adventurous, and precise. He effortlessly blends flavors, creating harmonious taste experiences that captivate the palate. His commitment to culinary magic and his ability to elevate even the simplest ingredients make his dishes truly extraordinary.
Chef Mitchell brings his wealth of expertise and passion to your plate, as he continues to push the boundaries of flavor and deliver culinary excellence.
A Truly Unique Experience
The festival brings together some of the best chefs in the world for a celebration of food, drink, culture, and entertainment that will leave you inspired and ready to explore all that this area has to offer. From creative tasting experiences to celebrity chef dinners and engaging cooking classes, our events bring together the finest ingredients, flavors, and people to create a truly special and unique experience. Join us for this unforgettable weekend of culinary discovery!
If you are interested in having your restaurant or winery showcased at the Palm Springs Food and Wine Festival please complete the form below.
Palm Springs Stadium Pavillion
1901 East Baristo Road
Palm Springs, CA  92262
Get step by step directions by clicking the button below...